Posted in Pet Health Advice by Rae and Mark | No Comments »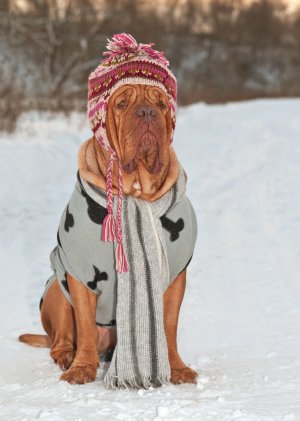 We know we typically post information about Parvo, but since winter is on the way, we thought we'd talk about what this cold weather means for your dogs.
To begin with, it is well-known that wintry weather and joint pain / arthritis often go hand in hand.
While scientists still cannot agree exactly how it is that your grandma can predict bad weather by the way her knees feel, there is a growing body of research that does establish some connection between the two.
But the root cause may not be what you think.
Common wisdom has it that it's the cold, or the rain, or the wind, or maybe the snow, that amplifies any joint pain you might be suffering.
However, it appears, according to David Borenstein, MD, FACP, FACR, from the George Washington University Medical Center, that it may actually be changes in barometric pressure that are responsible for those increased twinges.
Although all this research has focused on humans, let's not forget that animals are affected by the weather too. And dogs do, of course, have far more refined and powerful senses than we do – sight, smell, hearing, touch, and taste.
This means they too will feel the effects of changes in air pressure, and for the growing number of dogs that suffer from joint-related aches and pains, including canine arthritis and hip dysplasia, this can be a source of real discomfort for them.
So what do we recommend?
Firstly, you do need to make sure your doggies stay as warm as possible.
In our view, no dogs should be kept outdoors, but if you have a pet with joint problems, then they need to be indoors, especially during winter.
Secondly, you need to ensure you feed your doggie a healthy diet – poor-quality ingredients can aggravate inflammation, which will contribute to joint pain.
Next, gentle exercise can help loosen his joints, but nothing crazy – a couple of short (20-minutes or so) walks a day is plenty.
A regular massage will help too – it's not only us humans who find this both enjoyable and beneficial.
And lastly, you should administer pet supplements such as a liquid glucosamine for dogs. This, together with other ingredients like Chondroitin, MSM, and Grape Seed Extract, is proven to relieve joint pain and even help rebuild and repair collagen and cartilage.
(And it's safe and effective for humans too, by the way!)
Remember that the bad, wintry weather doesn't just affect you – your doggies will feel the cold too, so please take extra care of them.
Thank you for reading our BeMedFree.com Winter Weather Advisory For Dogs!